Store Feature -
Tanuki Jewelry - http://www.tanukijewelry.etsy.
com
Product -
Tanuki Jewelry: Simple every day jewelry
About -
My name is Vanessa, and I love making simple jewelry for every day wear. I like to use crystals, silver, and bronze. I like pretty shapes that make a statement, but in a simple way. I first got into jewelry making when I took a couple courses in wax carving and soldering. I absolutely fell in love with jewelry making and kept at it.
Support Handmade -
$32 - $84
Have your etsy/home business shop featured here in our Close2Home Friday Weekly Feature!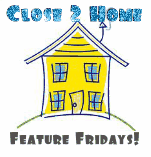 This post is written by the Etsy Shop Owner as part of my Close to Home Feature. I received nothing for this post. I am not responsible for the giveaway prize - it is separate from this post and not sponsored b

y me.