Store Feature -
thevicagirl - http://thevicagirl.etsy.com
About -
I enjoy creating beauty from everyday objects. You might see something and only see this mundane in it, but I see something more powerful. I enjoy every time that I make a piece that turns out to be unrecognizable to then hear those around
me
wonder, not if I made it, but what unusual thing it is. And then the joy that is felt when they as well see the beauty that is in the object that they have seen many times before but never cared to really see it.
Most of my items are either found as I go about my day either on the ground or in the garbage. Some are from items I have had that have become obsolete. However, the main jewelry findings, such as the claps, earrings studs, and most of the chains, are either bought from a trusted findings dealer, or made myself. I am always trying to find ways to make the jewelry out of more sustainable products than they already are.
Support Handmade -
NERDY for 20% off
Have your etsy/home business shop featured here in our Close2Home Friday Weekly Feature!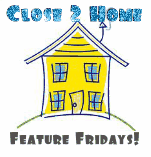 This post is written by the Etsy Shop Owner as part of my Close to Home Feature. I received nothing for this post. I am not responsible for the giveaway prize - it is separate from this post and not sponsored b

y me.