Store Feature -
Tash Tash Jewelry - http://www.etsy.com/shop/
TashTashJewelry
Product -
Handmade Jewelry for everyone :)
About -
I come from a beautiful country, Croatia.
When I discovered Etsy page, I got butterflies in my stomach! Yeah,call
me
a dreamer, but I think it's wonderful when you can share with someone your creativity and a tiny part of yourself. Its so wonderful when someone miles away have your special handmade thing that you put all your love in it.
I love to create, and therefore do not use shopping polymer clay, but I make it myself. Also making all the envelope for products! It requires a lot of time and love, but when I see the finished product I'm very happy!
Support Handmade -
6.50-12$ - I just opened my business,so for every purchase i will give a free jewelry gift!
Have your etsy/home business shop featured here in our Close2Home Friday Weekly Feature!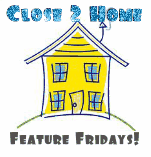 This post is written by the Etsy Shop Owner as part of my Close to Home Feature. I received nothing for this post. I am not responsible for the giveaway prize - it is separate from this post and not sponsored b

y me.