Store Feature -
RStephensArt - http://www.etsy.com/shop/RStephensArt
Product -
Drawings and prints - art done by me with colored pencils, charcoal, graphite, etc.
About -
I am a housewife and soon to be mother in South Florida. I started doing art when I was a child and kept with it because I enjoyed it. In high school it kind of took off though and became more of a career interest. I went to school for business and recently received my Bachelors degree in Supervision and Management. Although I decided not to get a degree in the arts I have continued to draw while going to school and have gone to craft fairs and made sales online and to friends and family. My favorite things to draw right now are foods like fruit, desert, breakfast, and other yummy stuff. I do want to break into the theme of LDS art. I like to work from a photo since it never changes.
Support Homemade -
Her prints retail from $8.50-$20 and she has Originals available from $15-$200. She has a great selection of fruit art that would be perfect as a set in the kitchen, and a blueberry pancake picture that looks good enough to eat.
Have your etsy/home business shop featured here in our Close2Home Friday Weekly Feature!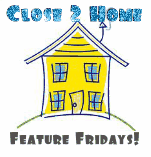 This post is written by the Etsy Shop Owner as part of my Close to Home Feature. I received nothing for this post.