Store Feature -
Highcalpens - www.highcalpens.com
Product -
Classic slimline and bullet style handturned pens
About -
I started turning custom pens after my wife gave
me
a wood lathe for Christmas a couple of years ago. It seems at sometime in our 40 years of marriage, I mentioned the fact that I really enjoyed using a wood lathe in shop class in highschool. Back then all we made were candlestick holders...my, how times have changed! Now I devote most of my spare time turning pens. Funny thing is though, I still can't seem to find a pen when I need one!
My handturned, handfinished pens are made from wood, acrylic, or Corian (a Dupont registered countertop materias) or a combination of materials. I really enjoy the element of surprise when you stop the lathe for the first time after turning the pen blank down to it's finished size and looking at the pattern or grain in the wood that's been revealed. It often looks nothing like it looked like prior to putting it on the lathe.
The one thing I do that make my pens unique is that I use non-standard centerbands. I look for unusual beads, rings, metal bands, or wood pieces to use as the centerband on my pens. It really sets them apart from most other pens available online. I also do custom pens in any one of over 100 types of wood and with any type centerband you'd like. All my pen prices include free shipping and one free ink cartridge refill for the pen.
Support Handmade -
The pens vary in price depending on materials used, but you can get them from between $15 to $20.
Have your etsy/home business shop featured here in our Close2Home Friday Weekly Feature!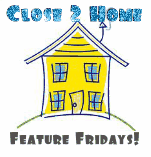 This post is written by the Etsy Shop Owner as part of my Close to Home Feature. I received nothing for this post. I am not responsible for the giveaway prize - it is separate from this post and not sponsored b

y me.