Store Feature -
Eva M Designs - http://www.etsy.com/shop/
EvaMDesigns
Product -
Emerald Green Beach Glass Earrings
About -
I am the creator of Eva M Designs, a shop that features a little bit of everything. I've always loved crafting but didn't get into the business end of it until I started making jewelry. Needing a way to fund this addiction, I started a shop on Etsy. Eva M Designs is named after my grandmother, Eva Manko, who passed on her crafty-gene to me. I think she also passed on an entrepreneurial spirit -- I remember hearing stories of her and my grandfather running all sorts of ventures, from an ice cream shop to selling eggs to clothing alterations. I recently decided to leave a career in teaching (and a decent salary) to manage a non-profit animal shelter in Olean, NY, and frankly, could use a second job. I'm trying to make Eva M Designs that job!
Though I've always been crafty, I never considered the possibility of a hobby becoming a business. For a long time, I made things for my own use -- I scrapbooked in high school, and I did a lot of sewing. For a few years I participated in Civil War reenactments (haha, yes, I'm a geek), so I sewed all my 1860s-era dresses myself. I also made a number of quilts and my prom dress. After I began college, my time was swallowed up with school and work, so it was just within the last few years I've gotten back into crafting. I started making jewelry in 2010 -- first, for myself, and then as Christmas presents. I briefly ventured into Etsy at that point, but my time was again taken up with graduate school (M.Ed. in Middle and Secondary Ed) and I abandoned that first try. I got back on to Etsy late this fall, utilizing the little time I have after work (when I'm not planning, grading, calling parents, etc.) to create! Finding teaching not to my liking, crafting has been a way to cope with this stressful year. I'm looking forward to my move to Olean, finally getting into a career that I love, and I hope all that positive energy will flow back into my creative work as well.
Support Handmade -
For a chance to win these earrings, she has a great giveaway for one of you -
To enter into this giveaway, post your best picture of the beach or coastline, along with your information and where it was taken, on Eva M Designs Facebook page:
https://www.facebook.com/
EvaMDesigns
OR tweet it to
@EvaMDesigns23
within FOUR days of this post.
She will compile all of the pictures into a blog post and let her friends, family and readers (and YOU) vote for your favorites! The winner wins the earrings.
Have your etsy/home business shop featured here in our Close2Home Friday Weekly Feature!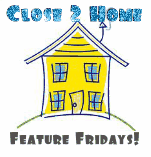 This post is written by the Etsy Shop Owner as part of my Close to Home Feature. I received nothing for this post. I am not responsible for the giveaway prize - it is separate from this post and not sponsored b

y me.