Store Feature -
Jewellery Bijou - http://www.etsy.com/shop/
jewellerybijou
Product-
Crochet handmade fashion leg warmers in beige with vintage looking buttons
We can all be warm and feel sexy...
These gorgeous legwarmers will surely slip you into a flirty mood!!
There is so many ways you could wear them…tuck into your winter boots and a dress, pair them with your leggings or you could just grab your high heels and hit the town!
You can wear them over or under the knee,in any case you will look fabulous!
Three vintage looking buttons on each side add unique finish touch to this lovely pair
About -
Fashion has always been my passions.... So I launched Jewellery Bijou.
My main focus when I make a piece of accessories is to make something that differs from the high street fashion. That is why all the pieces I make are handmade and unique. I always design each piece individually, with great attention to style and sophistication.
I make every item myself and, consequently, it cannot be found anywhere else.
I like to think of my art as making "unique fashion for unique people". My goal is to provide every single customer not only with accessory of the highest quality but also to offer them a truly personal experience. That is why for every individual piece I try to capture the beauty of the materials I use, their textures and colors, giving each product its own unique character.
Support Handmade -
These leg warmers retail for $43, but she also has a wide range of other items for sale in her shop. Looking around, I'm thinking her striped leg warmers could make for a really awesome witch costume in a few weeks.
Have your etsy/home business shop featured here in our Close2Home Friday Weekly Feature!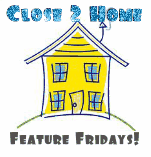 This post is written by the Etsy Shop Owner as part of my Close to Home Feature. I received nothing for this post.