Store Feature -
Precious and Pink - www.etsy.com/shop/
PreciousandPink
About -
My accessories are hand made headbands and hair clips for the little ladies. I started crafting once my daughter became known for her unique accessories. I love having an etsy shop while being stay at home Mom. It is the best of both worlds!
Support Homemade -
All of her products range from 2 on up. Check out her selection today.
Have your etsy/home business shop featured here in our Close2Home Friday Weekly Feature!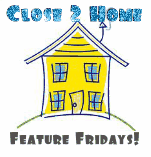 This post is written by the Etsy Shop Owner as part of my Close to Home Feature.
Opinions expressed in this post are strictly my own - I was not influenced in any way. I received no monetary compensation for this post. By entering this giveaway you agree to my
giveaway/disclosure guidelines