Store Feature -
Itsy Bitsy Spidey - http://www.etsy.com/shop/AshleyMarieBerry
Product -
Diaper Covers, Photo Props, Baby Fascinators, Pettiskirts and Headbands! Great for photographers as props or as a new mom gift!
About -
I started sewing at a very young age. i started a custom bathing suit business at age 17, then moved onto costuming (which i love!). I just had a baby girl 9 months ago and my new love is her (of course) but dressing her in frilly fun things! we went to a baby photographer and she had so many fun props...which got me thinking! i can unleash my creative side into baby photo props! they can be extravagant, or soft and pretty. So many ideas flowing!
Since a picture is worth a thousand words -
Support Homemade -
This shop is seriously adorable. The diaper covers would be so cute for newborn/baby pictures. And the headbands would be perfect for any little girl.
Enter to Win -
If you love her shop as much as I do, enter to win a $30 gift card! There is no mandatory entry, but show her a little love and interact with her site in some way.
a Rafflecopter giveaway
Have your etsy/home business shop featured here in our Close2Home Friday Weekly Feature!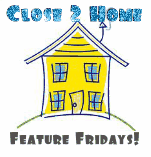 Part of this post is written by the Etsy Shop Owner as part of my Close to Home Feature.
Opinions expressed in this post are strictly my own - I was not influenced in any way. I received no monetary compensation for this post. By entering this giveaway you agree to my
giveaway/disclosure guidelines