I'm so excited to tell you guys about this weeks Close 2 Home Feature. it's only June and I now have found the perfect present for both my mother and my mother in law. So without further adieu -
Store Feature -
MadebyMaggieMae
About -
I am a SAHM to two cute kiddos. When I had my first child( a girl) I decided I wanted to learn how to sew her cute clothes. From there, the crafting bug hit me full force and I love everything from jewelry making to sewing to holiday decor projects to my new passion, family artwork. I found this site: www.twinstitchers.com that has embroidery patterns. I do NOT have the patience for embroidery so I drew it instead and started giving them as gifts. I LOVE homemade gifts! As I started giving the family trees and birthstone bracelets out as presents people kept telling me I should sell them, so here I am trying to sell them!
My Thoughts -
I LOVE this shop! When I fist saw these online, I thought they were really cute but was a bit overwhelmed. Having to pick the face, hair color, and style of each person on my picture seemed like a lot of pressure - there were so many options and I didn't want to mess things up.
In the end it was as simple as saying "Grandma Lofley - G5 Head - Brown Hair." It was easy to do, but I spent a looong time doing it. I really wanted everyone to look right.
We got our finished picture within days. And the highest praise I can give is to say that when my husband opened the package he looked at it intently for a few seconds. Then he said, "I like that. I really like that."
Considering the picture is crafty, girly, and cute all at the same time, that's saying a lot.
I love the finished product. The characters are adorable and really reflect the personality and style of the person they were modeled after.
I like that the drawing is done on muslin. It adds that extra interest and makes the picture perfect to hang. We haven't bought a frame yet, so it's hanging on our door on a hanger, but it will go up soon.
Support Homemade -
The Family Tree can be customized with up to 40 people, and varies on price accordingly. If you love this as much as I do, you can get 20% off your entire order with the coupon code
oneday20
Enter to Win -
They are giving away a family tree picture to one of you!
a Rafflecopter giveaway
Have your etsy/home business shop featured here in our Close2Home Friday Weekly Feature!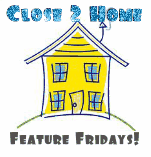 Part of this post is written by the Etsy Shop Owner as part of my Close to Home Feature.
I received a product to review from the above company or their PR Agency. Opinions expressed in this post are strictly my own - I was not influenced in any way. I received no monetary compensation for this post. By entering this giveaway you agree to my
giveaway/disclosure guidelines