Store Feature
- Katria's Creations - http://katrialy.etsy.com/
Reversible Cloth Headband
About -
I'm a part-time, professional floral designer and a full-time crafter. When I'm not designing something, I thinking of things to design (be it sculptures, photographs, accessories, flowers, the list is endless)! I've been crafting for as long as I can possibly remember; growing up, my mother always had some creative thing around the house for me to entertain myself with. My headbands and matching hair clips are among my most favorite things to create. These headbands are perfect for children and adults. The flowers can be worn clipped either to the band, in your hair... there are too many options to list. The great thing about these bands is that they are reversible! It's like getting two for one! Due to the handmade nature of this product, you will find some variances in size that will not affect the performance of the headband. Flowers are secured to salon-quality hair clips and are sewn completely by hand (with the help of my trusty sewing machine, or course). I am always happy to do custom designs and strive to meet the needs of guests to my shop.
Support Handmade -
The Headbands retail for just $13.00, and would be perfect for any little girl.
Have your etsy/home business shop featured here in our Close2Home Friday Weekly Feature!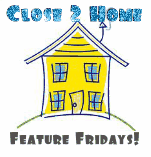 This post is written by the Etsy Shop Owner as part of my Close to Home Feature. I received nothing for this post.