Store Feature -
Ink of Me Graphics - http://www.etsy.com/shop/inkofme
About -
I am an architect with a passion for graphic and print design. I started out designing custom, personalized posters for friends and family, and after some encouragement started selling them online.
I love clean, simple designs and typography art. They say a picture is worth a thousand words, I like to make pictures out of words.
My designs are perfect for gifts and home decor and can be personalized and customized in a variety of ways.
Support Homemade -
Most of the Prints retail for just $15. They are also offering a coupon good for 25% off
- 25OFFMYINK
Win It -
They are giving away one print - winners choice
a Rafflecopter giveaway
Have your etsy/home business shop featured here in our Close2Home Friday Weekly Feature!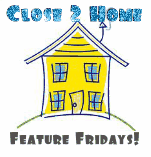 This post is written by the Etsy Shop Owner as part of my Close to Home Feature. I received nothing for this post.
By entering this giveaway you agree to my
giveaway/disclosure guidelines