Store Feature -
Grandma Grizzly's Teddy Bear Wear - www.etsy.com/shop/grandmagrizzlys
About -
I must start off by saying that my Grandmother taught me everything I know about Teddy Bears and sewing! Of course that was quiet a few years ago and sewing, along with me, has changed considerably! Traveling around the world as a military wife with our two, now grown, children I learned to love the diversity of the world and it's human inhabitants. I love people almost as much as teddy bears! Now things have settled down a bit. Our 11 grandchildren are scattered across this great country of ours, and my husband is merrily supporting my sewing habit by continuing to work. Now I'm trying to bring my Grandmother's passion for creating sewing patterns to make clothes for her bears into the 21st century. I hope you will check back often, I'm trying to get more patterns posted, but it's a long tedious process making sure her patterns are fit for "human construction" (sorry)! Now my husband wants to start making wands and staffs for the Wizard and Witch costumes! (more shop space gone).
Support Handmade -
All of the patterns retail for just $8.99!
Have your etsy/home business shop featured here in our Close2Home Friday Weekly Feature!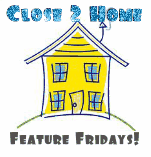 This post is written by the Etsy Shop Owner as part of my Close to Home Feature. I received nothing for this post.