Store Feature -
NocturneHandcrafts - http://www.etsy.com/shop/NocturneHandcrafts
Hi everyone! We Kathy & Aris, we are a couple and we run together the Etsy shop. We are 20 and 26 years old respectively and we live in Athens, Greece.
We started in 2010 making jewelry and sell them locally until in 2011 we found Etsy.com and started our shop.
It all started as a hobby and Kathy's passion for gothic jewelry. Most of our jewelry are gothic/victorian style-oriented because we both adorn gothic culture. Our favorite kind of jewelry is the metallic ones we make because there are endless possibilities and imagination goes wild!
The product featured is our newest design from this category - a necklace/choker named "Ernelia".
A majestic metal choker featuring a red rose cameo on the center. It is accompanied by three red tear drops and wonderful filigree designs.
Support Homemade -
It is available for sale in our shop and soon we will make it with different colors.
Thanks for taking time to read this product feature and remember to heart or bookmark our shop if you like our creations!
Kathy & Aris
Have your etsy/home business shop featured here in our Close2Home Friday Weekly Feature!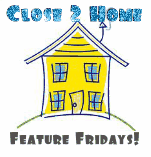 This post is written by the Etsy Shop Owner as part of my Close to Home Feature. I received nothing for this post.