Store Feature -
Handbound Books by Cathy Durso - http://cathydurso.etsy.com
Handbound journals, notebooks, and sketchbooks, and custom made boxes and portfolios
About -
My handbound books are all put together completely by my own hands. I design the look and feel of each book individually, deciding what materials will work together to make a beautiful, unique item, then cut, stitch, and glue the materials together by hand.
I took a bookbinding class as an undergraduate and was instantly hooked! I love the process and working through each step to create beautiful, unique books. Since that first class, I have continued to explore bookbinding techniques and grow in my craft. My own ideas and the custom orders I get through my Etsy shop are always giving me new creative challenges, which is very exciting and rewarding!
Everyone has a use for journals, notebooks, and sketchbooks, whether they like to write, draw, doodle, jot, or list. It's nice to be able to put your thoughts and ideas down in a one-of-a-kind, well-crafted, handmade book.
Support Handmade -
Check out her shop and while there get 15% off with code
LOVEBOOKS
Have your etsy/home business shop featured here in our Close2Home Friday Weekly Feature!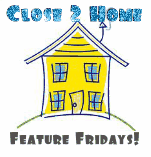 This post is written by the Etsy Shop Owner as part of my Close to Home Feature. I received nothing for this post.