Store Feature -
Red Morning Studios - http://www.etsy.com/shop/redmorningstudios
I began Red Morning Studios as a creative outlet to my soul-sucking cubicle job. What started as sporadic crafting in the dining room has turned into a full fledge business venture with my own "office." However, the only spare room in the house was affectionately known as the cat's room. Therefore, she begrudgingly gave up her room (read: was kicked and locked out) and the cat room became the sewing room.
I love designing new products. My most recent product line was fabric lanyard ID badge holders/keychains. I got the idea while trying to find a use for the long strips of fabric that are left over after making my Kindle and Nook cases.
The featured product is a black and white flowered zipper pouch (http://www.etsy.com/listing/89339183/zipper-pouch-or-change-purse-black-and).
Zipper pouches were one of the first products I learned to make, and are still one of my favorites due to the wonderful variety of patterns and fabrics available. This black and white flowered pattern receives a lot of attention for it's design, but there are more patterns available in my store (http://www.etsy.com/shop/redmorningstudios).
Support Handmade -
The Zipper Pouch retails for just 5.99!
Have your etsy/home business shop featured here in our Close2Home Friday Weekly Feature!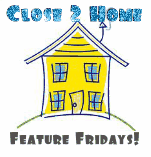 This post is written by the Etsy Shop Owner as part of my Close to Home Feature. I received nothing for this post.