Store Feature -
Rag Dolls Rising - http://www.etsy.com/shop/RagDollsRising
We make quality one of a kind, kid friendly rag dolls.
About -
My name is Diane Eugster. I live in Las Vegas Nevada with my husband John and cat Ali. For many years I have been a garment sewer and pattern maker. I discovered rag doll making about a year ago and can hardly leave my sewing machine. I love everything from embroidering the faces to making up the store of their lives.
It is very important to me to create a quality doll that will last for years. One of the greatest thrills is receiving pictures of the dolls with "their" kids. I am always looking for new ideas, if anyone has thoughts on a new doll theme let me know. I also have a blog, RagDollsRising.com where I give more information on the dolls personalities.
Support Homemade -
The Rag Dolls Vary in Price from $30 to $50 and are adorable.
Have your etsy/home business shop featured here in our Close2Home Friday Weekly Feature!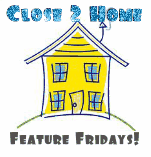 This post is written by the Etsy Shop Owner as part of my Close to Home Feature. I received nothing for this post