Store Feature -
Krystal Ring Kreations - http://www.krystalringkreations.com/
I am a Stay at Home Mom to a beautiful little 3 year old girl! We live in Southern Manitoba, Canada in a small town! I make Chainmaille Jewelry, Knit, make Soaps, Play Dough, and T-Shirt Bags, but Chainmaille is my main craft!
I have two websites one on Etsy at http://www.krystalringkreations.com/ and one on ArtFire at http://krystalringkreations.artfire.com/ .
I Started making Jewelry about 6 years ago but I didn't care for working with beads, then I found a pattern for Box Chain and I haven't looked back. I find the limited colors provide a unique challenge that I didn't get working with beads that come in every color imaginable! I still work with beads some time but not very often! I make the stuff I do because I enjoy making pretty things!
My favorite thing to make is bracelets, they take about 1/3 of the time that necklaces take and unlike earrings I only have to make one not a pair!
I try to keep my work fun and exciting with lots of colors, I also have a large number of Rainbow items for the Rainbow lovers in this world! My items make great gifts for anyone on your list!
I have a FaceBook page at http://www.facebook.com/krystalringkreations and I am also on Twitter http://twitter.com/krystalring and my new obsession online is Pinterest http://pinterest.com/krystalring/ Feel free to follow me!
Support Handmade -
How about a 15% off Coupon Code - 15% KRK15
Have your etsy/home business shop featured here in our Close2Home Friday Weekly Feature!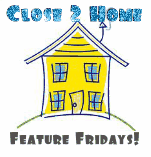 This post is written by the Etsy Shop Owner as part of my Close to Home Feature. I received nothing for this post.