Store Feature -
HollyByGollie - http://www.etsy.com/shop/hollybygollie
My name is Holly, HollyByGollie, and I create beaded key chains and bookmarks in my little log cabin studio in the high desert of Northern Arizona. HollyByGollie was a childhood nickname that seemed a perfect name for my business.
I'm addicted to beads, sometimes I love to sit in my studio and just look at all the colors of beads, holding them up to the window and let the light beam through. I can waste away an afternoon quite easily.
When I'm not playing with my beads, I am also a church office manager, motorcycle passenger, cook, doodler, and spending my time enjoying life with my husband and two dogs, Daisy and Dash.
I'm giving away this pretty blue and green beaded key chain. This is one of my favorite key chains. Its blues and greens remind me of the sea so I've added a starfish charm. These make great little gifts for family, friends, teachers, or co-workers... and great giveaways!
Support Handmade -
She is giving a keychain away on her blog. Check out her blog to enter - www.HollyByGollie.blogspot.com)
Have your etsy/home business shop featured here in our Close2Home Friday Weekly Feature!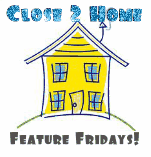 This post is written by the Etsy Shop Owner as part of my Close to Home Feature. I received nothing for this post.