Store Feature -
Liaframes and Vintage - www.liaframes.etsy.com
Liaframes: handmade picture frames for all occasions. We specialize in personalization
About the Shop:
I'm a father of three girls and I specialize in making handmade frames for babies and toddlers. We specialize in babie's "firsts". I mostly use regular, 2D and 3D non toxic stickers safe for children. Most of the money we make goes back to the Montreal Children's hospital specifically to the Cleft Lip and Palate department.
Shop Homemade -
Frames retail for around $7
Have your etsy/home business shop featured here in our Close2Home Friday Weekly Feature!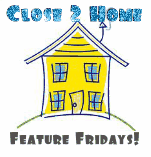 This post is written by the Etsy Shop Owner as part of my Close to Home Feature. I received nothing for this post.