Melan

Sol

®
was invented by Peter Zahner, a man who experienced basal and squamous cell carcinoma skin cancer first hand. It is specifically formulated to help prevent sunburn and the kind of skin damage that can cause these two non-lethal forms of skin cancer.
Melan

Sol

®

sunscreen is 100% natural.
It's completely free of chemical active ingredients, synthetic preservatives, colors and scents.
Melan

Sol

®

contains no alcohol and is

NOT TESTED ON ANIMALS.
Melan

Sol

®

sunscreens are safe because they are biodegradable and CONTAIN NO HORMONE-ACTIVE UV-Filters OR CHEMICALS that can break down under exposure to the UV rays and pollute oceans, lakes, rivers and streams.

Melan

Sol

®

is not a sun block. It allows anywhere from 3 to 10% of UV rays to reach your skin. It is important not to block out all of the sun's UV rays because your skin needs them in order to synthesize vitamin D.

Melan

Sol

®

is gentle and highly suitable for children's tender skin.

Melan

Sol

®

represents a new generation in sunscreen protection that uses Super antioxidant Bio-Melanin, coupled with reflective zinc oxide and titanium dioxide to protect you from photo damage.

High SPF ratings send the wrong message and give you a false sense of security. People are led to believe that they can apply a high SPF sunscreen and proceed to spend an unlimited amount of time in the sun, which is not the case.
FREE SHIPPING on orders $50.00 or more INCLUDING international orders.
100% chemical free moisturizer
Both hydrating and protective
Revolutionary system of anti-aging antioxidants to control free radicals
The natural antioxidants will help ease sunburn.
Anti-oxidant foundation for makeup.
Nourish and rejuvenates tired skin.
100% Natural Sunscreen SPF-10 - 6fl. oz. $20.95
100% Natural Sunscreen SPF-20 - 6fl. oz. $23.95
Tested and Verified for UVA & UVB radiation
UVA Rating High--PA+++
UVB Rating-SPF-30--Filters 97% of UVB Radiation
Will Not Burn Your Eyes, Can Also Be Used On Lips
Conditions, Hydrates, Nourishes, and Rejuvenates Your Skin
A Clear, Non-greasy Formula That Dry's Quickly
A Great Choice For Children and Sensitive Skin
For Use on Face & Body
Water Resistant
My Thoughts~!!
First of all, as a sunscreen it is an amazing product for protection against the suns rays~! My eighteen year old has always had problems with the sun. She has no ability to not burn and as soon as the sun looks at her, she is burning!! We have used the SPF-100's to no avail and we had just about given up finding anything suitable for her.
This summer she has been able to hang out at the beach with her friends without turning into a crispy crab and some days she'd hurt sooo bad before we found this product. It really keeps her protected for at least two hours before she has to renew it...which, for us, is the best we have ever found!!
My youngest daughter however, believes it to smell weird and she shies away from using it. It has a distinct medicinal smell that can be a bit strong and overbearing. However, she is used to smelling the coconuts and fruit punch smelling sun blocks and not the beneficial sun screen now being applied to her skin. Again, though, it works great and she usually is good for the afternoon.
It goes on quite thick and not much is needed to spread it around. I found the spout to be a bit small for allowing a proper flow to stem from the bottle to your hand. I have weak hands/wrists and having to squeeze the bottle in order to get a proper amount out was for me a bit troublesome.
The moisturizer worked great on my youngest daughter when she burned last week. She had snuck out without slathering and lathering first and paid the consequences. We put some of the moisturizer on her back and within no time, she was experiencing comfort.
Again, she wasn't impressed with the smell, but didn't complain too much when she felt the effect on her burning skin. Later she brought it to me to have it applied again, so smell or not, it worked enough for her to get past that and use it again.
I would use these products again and recommend them for anyone who is concerned about the products they are using and the effect of the product being used. This one works, it doesn't smell great, but it does work~!!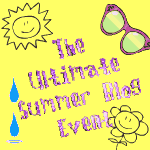 ** Disclosure: I did not accept any compensation from the sponsors other than review copies, my views are my own, reviewed by me..as I see it~!! **