Pop, You Rock Because...
is a tribute book for fathers.
This is a delightful book for children to give to their father's!! Within the pages you will find over sixty pages of reasons why your dad is special to you!!
Thoughts of love, dedication and trust, to name a few, are spread throughout the pages and shared between child and father! Such as,
Pop, you rock because
...you taught me not to give up, you did the heavy lifting and you let me eat the ice cream right out of the carton!
I thought the book was really cute and would be a GREAT Father's Day gift to give to that special dad from their wee ones. Not all ideas shared are appropriate for everyone, such as, you wore the stupid tie I gave you...my dude doesn't wear ties, but there are so few that didn't relate that I would still purchase it and give to him! The colourful illustrations and the poignant thoughts are sure to be a hit!
It only takes a few minutes to read but the gift of love will sure to bring smiles to the dad in your life~!!
SYNOPSIS:
Tomoe Sasaki Farley's ode to dads arrives in time for Father's Day and will remain, for years to come, an endearing and amusing tribute to fathers on any occasion. Sons and daughters (from Tokyo to Santiago) honor dad because......you did the heavy lifting....you wore that stupid tie I gave you....filling your shoes meant more than growing big feet.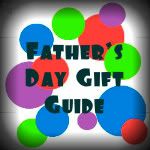 ** Disclosure: I did not accept any compensation from the sponsors other than review copies, my views are my own, reviewed by me..as I see it~!! **